How do I earn PTO?
You earn an annual grant of PTO based on how long you've been with Walmart. You receive your PTO grant at the beginning of each "plan year" on Feb. 1. Your grant is based on your position, schedule and the anniversary you'll celebrate in the coming plan year, so associates may move to higher grants before their anniversaries.
Check this grant schedule to see the maximum amount you earn.
If you work in Home Office or Logistics and have a three or four-day schedule, your grant is prorated based on your hours. See this grant schedule for details. 
PTO grants for salaried pharmacists vary depending on work schedule. See this grant schedule for details.
Policies and rules in some states and cities may affect the amount of your grant. Also, if you have special circumstances (such as previously negotiated time off), your grant may be different. Connect with your People Partner for more information. 
Most salaried associates
You receive an annual grant of time based on how long you have been with Walmart.

Salaried health care professionals
Because healthcare professionals work varied schedules, PTO is actually granted, used and tracked in hours, as shown below. Your grant is calculated based on your biweekly hours scheduled and your years of service.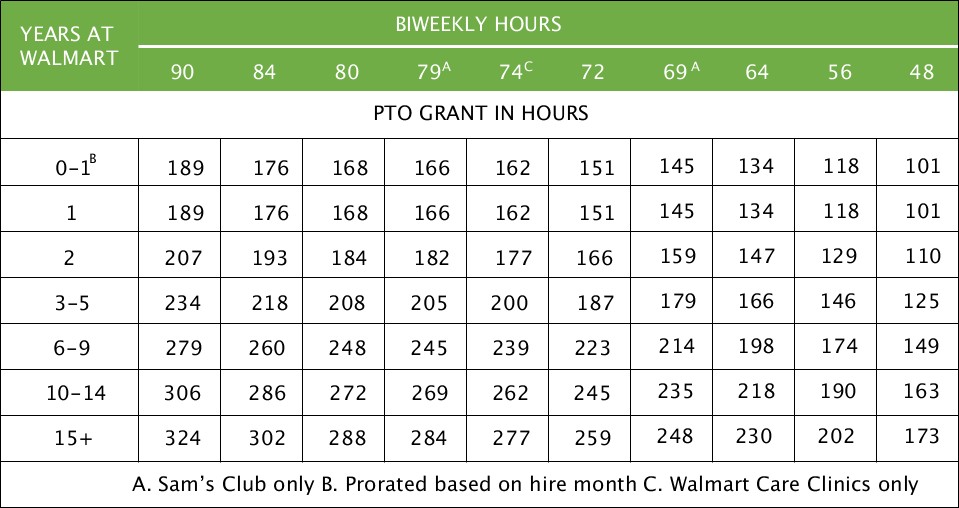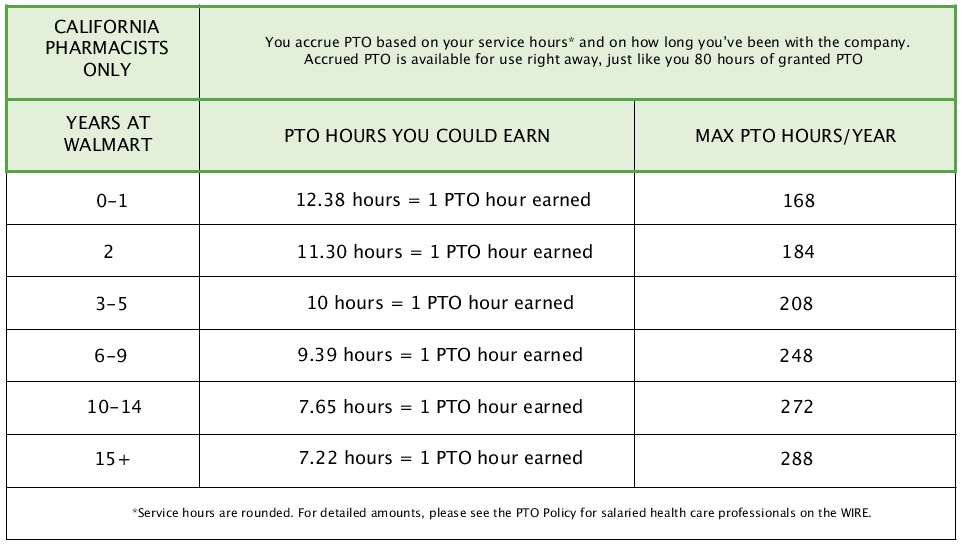 *Service hours are rounded. For detailed amounts, please see the PTO Policy for salaried health care professionals on the WIRE.
What other time off with pay do I have available?
Two programs work together with PTO: short-term disability coverage at no cost to you, and parental and family care pay. Both require a leave of absence. Together, they offer financial support when you or a family member has a serious medical condition, or for maternity and parental leave.
Documents
Related Content
keyboard_arrow_left
keyboard_arrow_right