Learn what it takes to compete in the truck driving championships from some of the pros.
We're celebrating the impressive Walmart drivers who participated in the state and national truck driving championships. Here's how it works: Drivers compete at the state level, and first-place winners get to advance to the National Truck Drivers Championship in Indianapolis, Indiana.
This year, three of our drivers placed at the national level! Dennis Shirar of TO 7855 in Gas City, Indiana, placed third in Tank Truck Division; Charles "Mike" White of TO 6817 in Seymour, Indiana, placed third in the Sleeper Berth Division; and Eric Ramsdell of TO 6831 in Buckeye, Arizona, won first place in the Flatbed Division. "I've been fortunate enough to be in the nationals eight times," says Eric (pictured below, in center).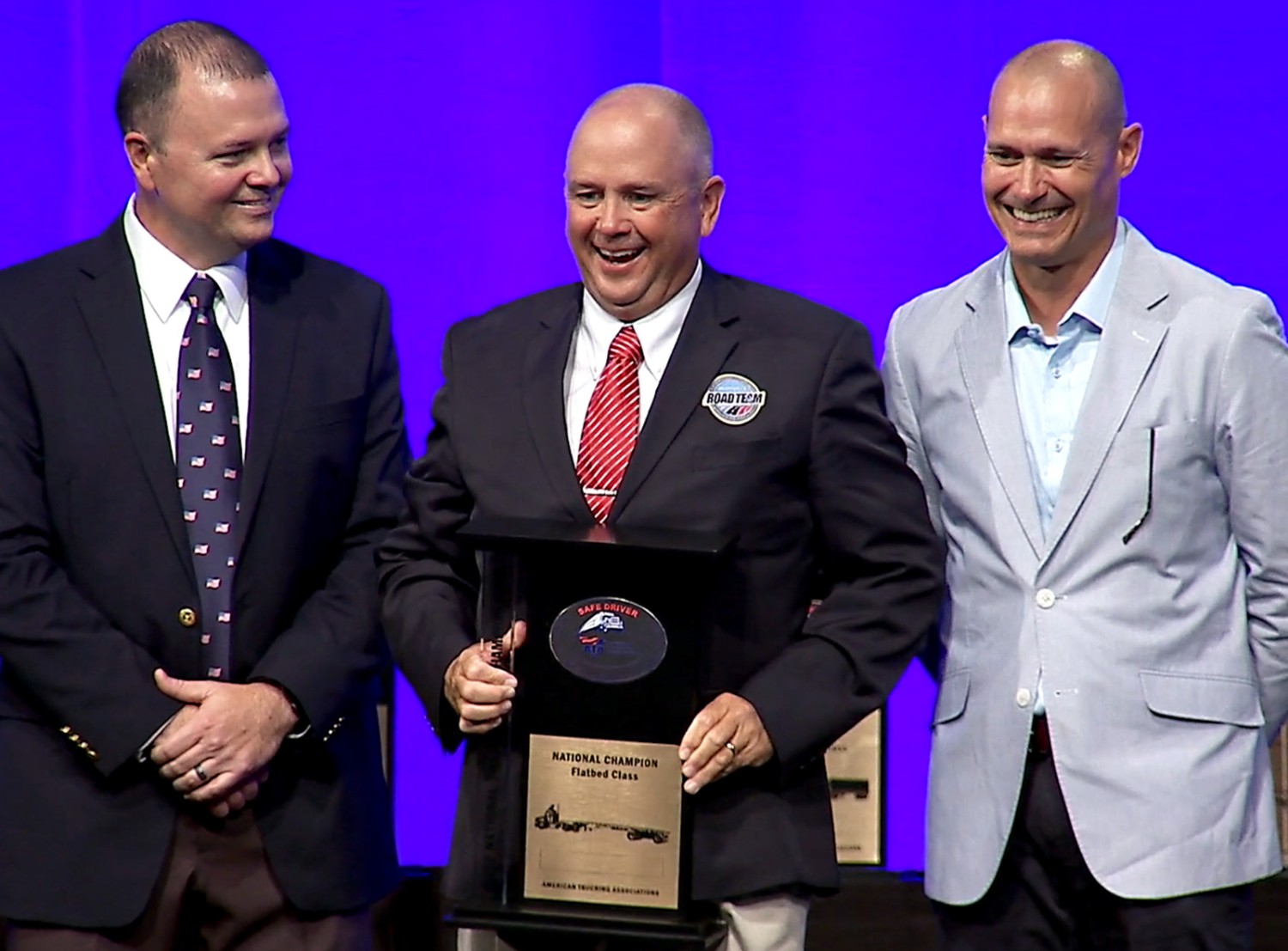 Eric's advice to drivers who are new to the competition? Get in and give it a try. "Go and enjoy yourself and have fun. It's about the comradery with all the different drivers. Learn from each other because it's all about safety," he encourages newcomers. "Don't worry about the crowds, because you drive in front of people every day."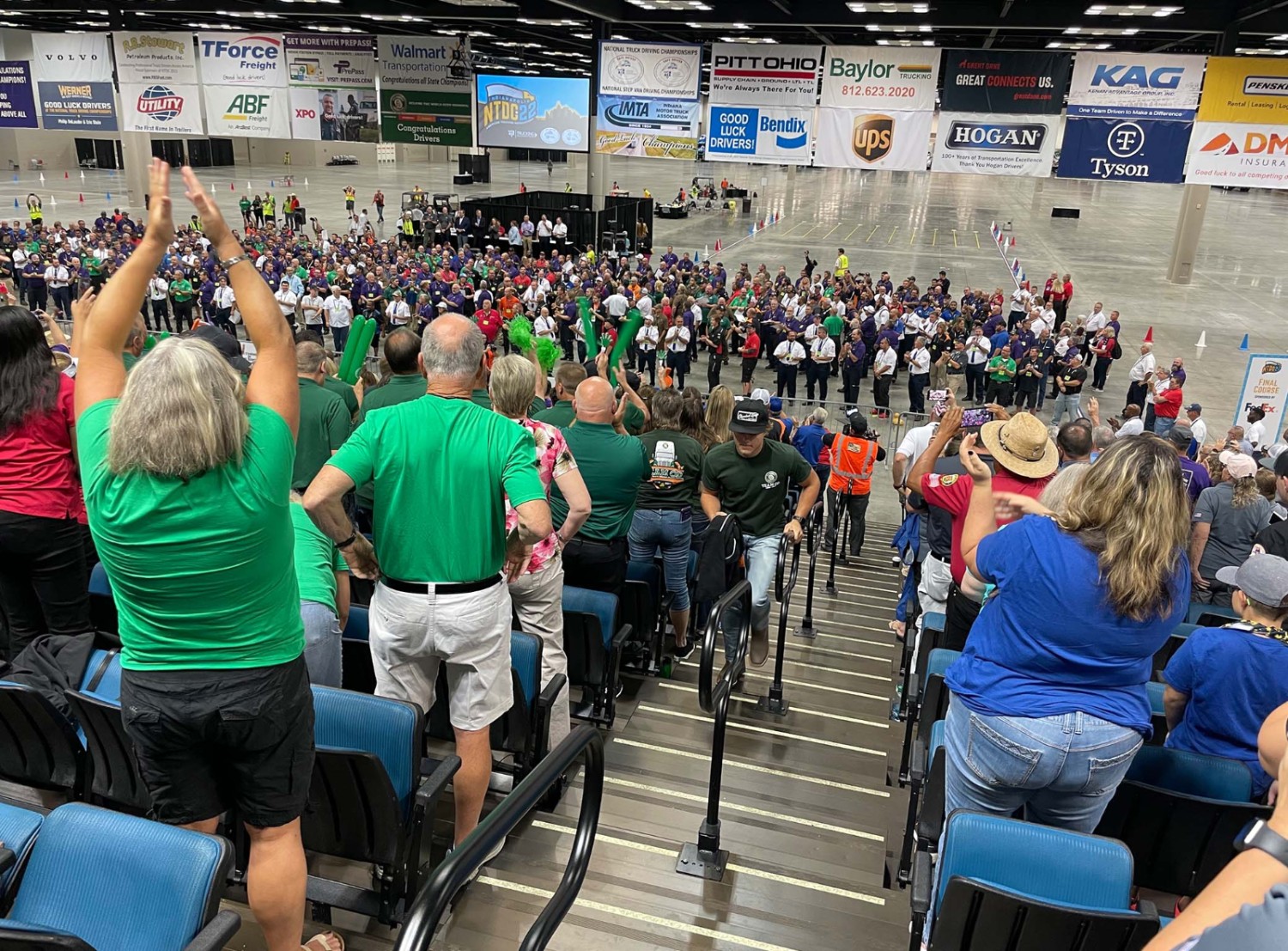 Want to learn more about what it takes to be among the top drivers on our team? Walmart World spoke to 10 drivers who placed at the state level and therefore qualified to take part in the 2022 NTDC.
Meet The Drivers
Eric Ramsdell: Buckeye, Arizona. TO 6831. Has 1,256,806 safe miles and has been with Walmart 18 years. First place, Flatbed—State and national.
Jason Imhoff: Grove City, Ohio. TO 6824. Has 1,686,797 safe miles and has been with Walmart for 19 years. First place, Straight Truck.
Brandan Crosgrove: Grantsville, Utah. TO 7826. Has 935,161 safe miles and has been with Walmart for nine years. First place in Five-Axle and Team Trophy.
Christopher Turner: London, Kentucky. TO 6897. Has 201,957 safe miles and has been with Walmart for two years. First time at state and nationals. First place, Sleeper.
Anthony Tirone: Fort Pierce, Florida. TO 7838. Has 587,916 safe miles and has been with Walmart for seven years. First time at nationals. First place, Sleeper and Best Pre-trip Inspection.
Johnnie Long: Opelousas, Louisiana. TO 6848. Has 2,355,753 safe miles and has been with Walmart for 22 years. First place, Tanker.
Robert Bjelland: Hurricane, Utah. TO 6829. Has 590,306 safe miles and has been with Walmart for five years. First time at state and nationals. First place, Three-Axle, Rookie of the Year and Team Trophy.
Bret McBain: Bentonville, AR. TO 6801. Has 1,476,752 safe miles and has been with Walmart for 18 years. First time at nationals. First place, Tanker and Team Trophy.
Antoine Sadler: Shelby, North Carolina. TO 6870. Has 1,731,399 safe miles, has been with Walmart for 18 years and is a board member of Truckers Against Trafficking.
Rickey Oliver: Brookhaven, Mississippi. TO 6811. Has 2,582,852 safe miles and has been with Walmart for 24 years. First place, Tank and Team Trophy.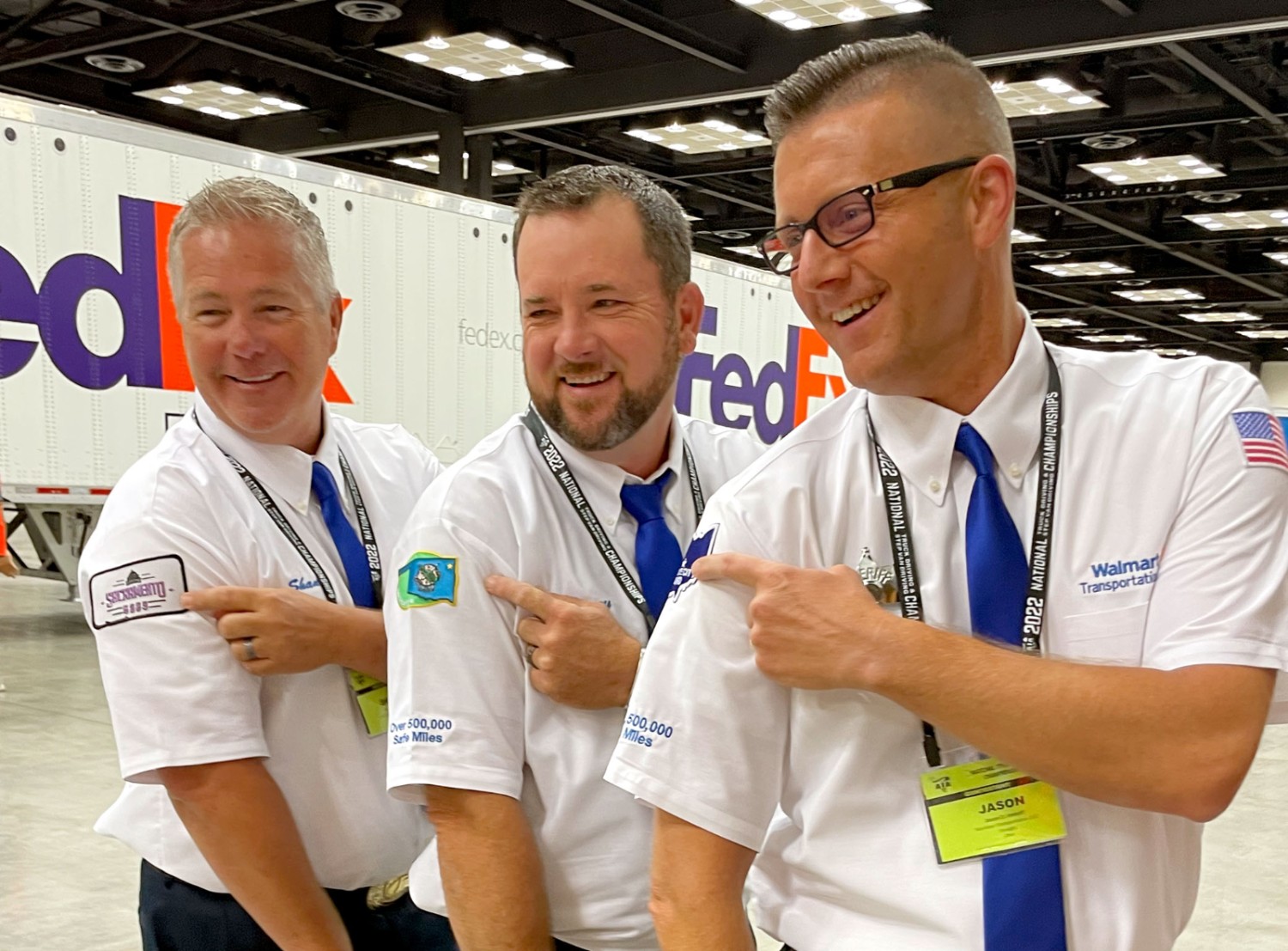 Q&A With the Competitors
Walmart World: What are a few reasons you wanted to become a driver at Walmart?
Jason: My dad was a driver for 44 years and you always look up to your dad as your hero. I've been riding with my dad since I was three years old in the truck. My dad came to work at Walmart in 1992 and he was a Walmart driver for nearly 27 years.
Brandan: I wanted to become a truck driver from a young age. My father wasn't a truck driver but he was around it and therefore he brought me around it a lot. And so, I kinda grew up around trucks.
As a kid, you know, you're fascinated by them. When I got out of high school, I wasn't ready to go right into education, and the pull to drive a truck just seemed like a great challenge and it was a great career. I've made a good life out of it and I'm happy about all my choices. I've been very successful and very lucky.
Christopher: The ability to command my own ship, to be able to do my job without being supervised all the time. The second reason was the scenery. I mean, I've traveled to 48 states and three countries through truck driving. It's been a wonderful experience for me. The freedom that it allows me, plus the things that I have seen in this world are once-in-a-lifetime that many people won't ever see in their life.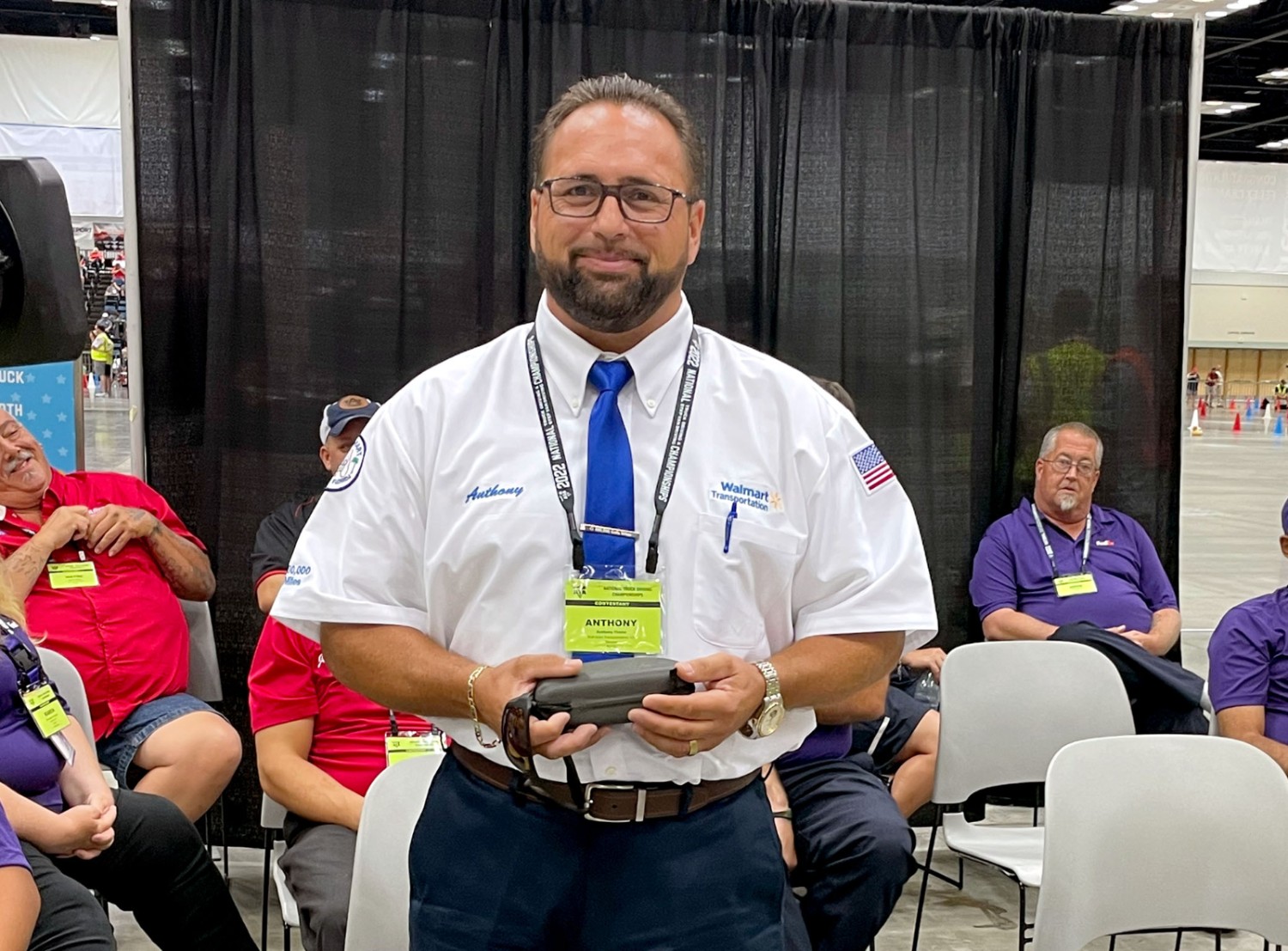 Anthony (pictured above): My father spent 33 years with the same company. I watched him get up every morning and go to work and do the things that he did and I watched the level of enjoyment that he had with his family. The way that he was able to come back home and make sure that the time that he spent with us was to be with us at those times. And I've been able to develop that same feeling from my own family.

Johnnie: I became a truck driver because I needed a job at the time and I started driving a truck and quite honestly, because it paid regular—and I got to see the country. I got paid to drive all over the United States of America and see all the different things. I've had nothing but good experiences, positive experiences in the trucking industry. And with Walmart, it's been a step up. They give me the opportunity to stretch my talents out as far as I'm willing to go.
Bret: I was an operations manager for Bank of America in the late '80s, and when federal banking deregulation came into effect my job became obsolete. I grew up on a farm and I had a CDL that I'd never used to make a living. It was the option I had at the time. So, I went after it with vigor, and 30 some odd years later, I'm at the pinnacle of the truck driving industry, I feel, with the company I work for and the things I've gotten to experience here. So, it ended up being a very positive thing for me. But I didn't plan it in advance!
Antoine: Number one, my father. My father was a driver and you know how you always follow in your father's footsteps. And I look to him as a role model. Number two, the freedom of being out, seeing different things, getting to travel and meet new people. It's just a job I love to do.
Rickey: My father. My father was a truck driver and he farmed. I went to college and after college, got married and took over the family farm and started driving trucks and it was meant to be. 
WMW: What does it mean to be representing Walmart?
Brandan: For me it's a big deal. This is my first time being at nationals. To be here with Walmart and the pride that they take with our uniforms, what they do for us, all the backing from our safety all the way up to the management at our DCs, and the team that we have here with the drivers and the comradery that is here. It's been a great experience and just to wear Walmart on the shirt, it means a lot.
Christopher: Ecstatic enjoyment, enthusiasm, the words can't describe it. I have been in awe since I have been here. The environment, the people, the Walmart brothers and sisters that I've dealt with, the ATA that I've dealt with have been phenomenal. As experience goes, I'm on cloud nine. It was much more than I ever expected or ever even dreamed about.
Anthony: To be here today representing Walmart in my eighth year of employment and my fourth competition year has a lot of meaning to me. This was introduced to me by my safety manager five years ago, Mark Carol. He just retired last year. So, to be able to get a culmination, to win my state championship in his last year being with the company, and now coming out to nationals, it's a real tremendous boost to the safety that I've put forward for the last eight years, to be able to participate in this program.
Johnnie: Representing my fellow drivers is a great experience. We love to go out and showcase our talents for our company. We appreciate the company allowing us to participate in these types of events and supporting us through the whole year.
Bret: Representing Walmart here today just kinda means everything to me. It's a lot of pride in this job, in this company, and safety of course is paramount. And being able to rub elbows with this group of guys from around the country, hundreds of drivers here from all sorts of different areas and companies, and a great sense of pride to me to be here and be part of that.
Rickey: I feel honored. Walmart's got a bunch of the best drivers in the country, and to be here representing them and Walmart is an honor. It's something that not everybody has the opportunity to do, so I don't take it very lightly at all.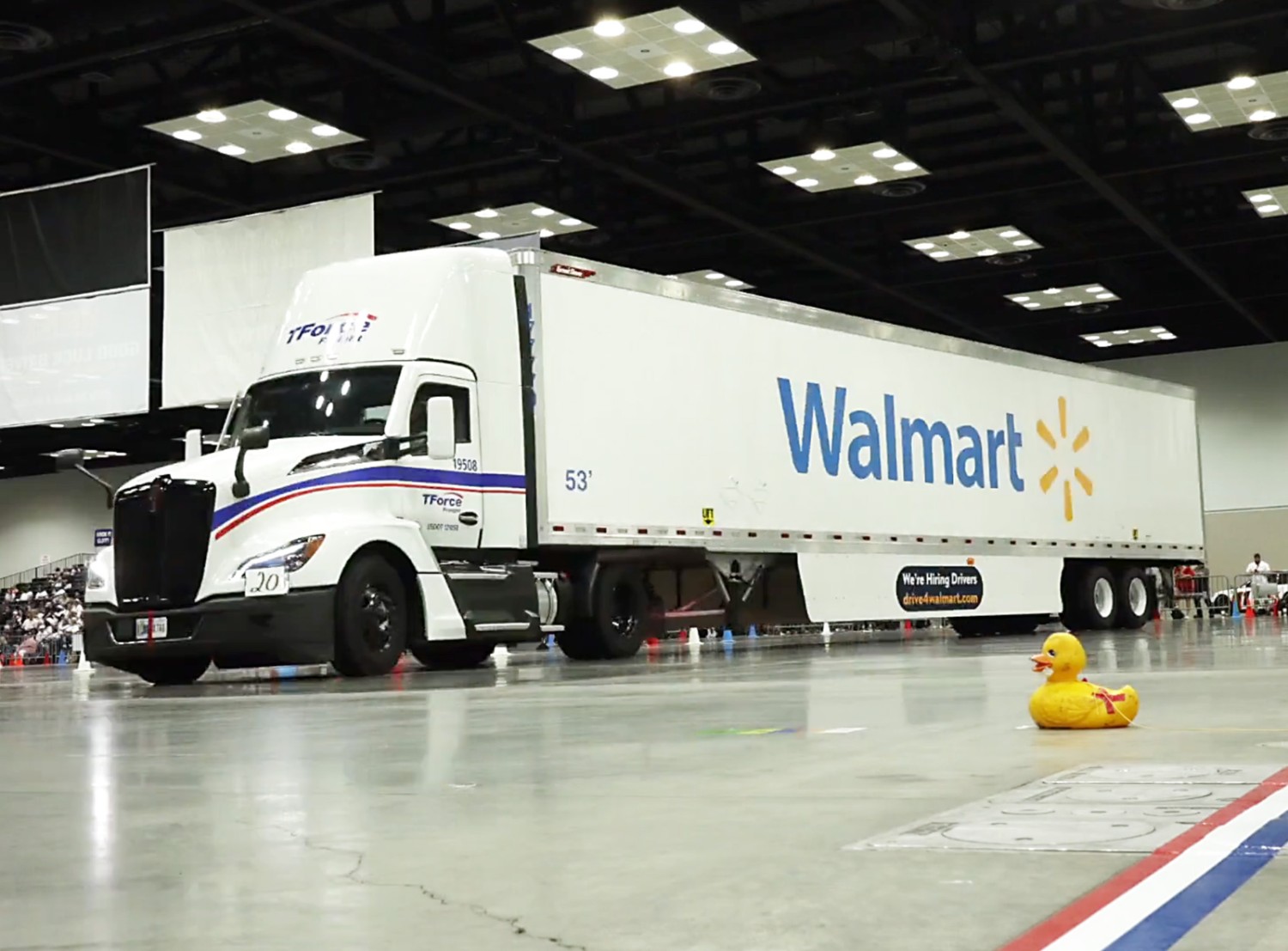 WMW: What is your favorite part about participating in this competition?
Brandan:  The value that I get from entering into these competitions is, it pushes me to be a safer driver year-round. I'm more on my game all year round, too. I mean, when you look at it, practicing and preparing for this week, to get here, it's not just a couple week thing. It's your whole career.
So, for me there is great value in that I can always better myself and push myself and hopefully learn something at the end of it.
Anthony: My favorite part about participating in these competitions is really about my family. And when I say family, I'm not just talking about my wife and my three daughters. I'm talking about the other drivers, the professionals that are sharing the road with us every day. I've met people from so many different companies. And now being here at nationals, I've met them from so many different states, that you realize how small our trucking industry is. It's a large industry, but the amount of competitors and the level of support that everybody gives each other, you do feel like you're a part of something with a family here.
Johnnie: The food! [He laughs.] No, the comradery. You're meeting all your fellow drivers from all over the country. You get to hear about their experiences and share yours.
Antoine: Meeting new friends, seeing old friends, and just being here to have fun. I can't explain the feeling. It's just overwhelming.
Rickey: You get to see some old faces, and some old road team guys, and people that have retired, they come back up here and they wanna see how you do. And just the professionalism from the front to the back. It's like competing at the Superbowl. It's the top of our industry. Top of our profession. If you've ever been here before, you always wanna go back.
WMW: Any advice for drivers wanting to compete in this type of competition?
Christopher: My advice would be practice, practice, practice, practice and then practice some more. And find people that have been through this before. There's hundreds out here that are willing to offer to help, that are really nice people, that understand that they were in the same boat that you are in. And it's just great to build that comradery and build that partnership with them.
Anthony: Go into your local office, speak to your safety manager, speak with your GTM, let them know that you have an interest in this. They'll pair you up with a mentor, somebody that's been participating in this program and let the mentor develop you throughout the year and teach you different ways to practice throughout the year to prepare yourself for this competition.
Get your driver group involved. One of the things I did in our local center when we started this program was, stand out there and cheer guys on. I made sure they didn't feel like they were out there by themselves running the local courses. And I helped them study through it. Once you have that level of excitement, you're just gonna wanna continue on and it becomes infectious throughout the fleet.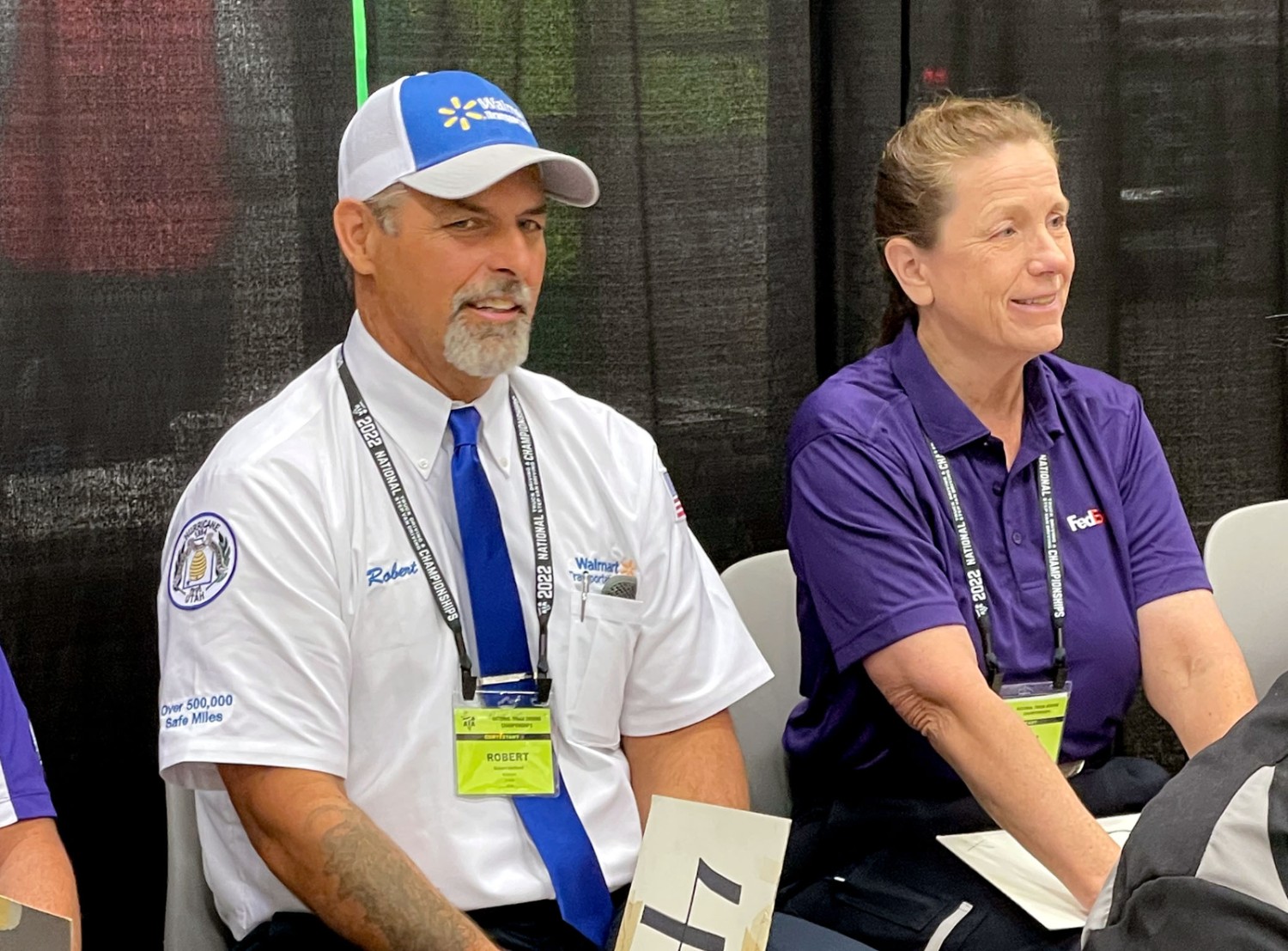 Robert (pictured above): Go for it. Don't let your nerves or anything hold you back. It's been a real honor to be here with Walmart and to be able to compete with these more veteran drivers. It's a real learning experience.

Johnnie: Keep your focus on the road. Focus your attention on being safe. One year of safe driving and you can get up here and you can showcase your skills. That's what it's all about, learning how to be safe. Doing our jobs better each and every day. It's great to have the trophies, but it's better to be safe for our families and our friends.
Bret: Just jump into it. A lot of drivers feel scrutinized, I think, and feel like they're gonna be judged in the process, and once you get involved in it and you go to your first competition, it's almost addicting. And you realize that it's just putting your best foot forward and doing the best you can. And the rewards sometimes don't just come with winning, the rewards come just with the participation, the comradery and just being part of the whole process. It's a lot of fun.
Rickey: My advice to those who are driving trucks and they feel like they need to give back to the industry, this is how you start. Start working and going to the Truck Driving Championships at state level, local, and work your way to nationals.
Between September 11—17, 2022, we're celebrating our Drivers and Techs. Watch for more stories about the amazing associates who do more than deliver every day!