As her store strives for reaching a 5, manager Amy Gill believes in the power of "we."
When Amy Gill first started at Walmart as a part-time cashier, her managers soon suggested she consider going into management. At the time, Amy firmly said, "Not until my little ones are in school."
Sure enough, five years later, Amy got a first-person lesson in attentive management. Her managers listened to her, watched and waited. And just two days after her youngest started kindergarten, her manager, Darryl Grimes, came to her and said, "Ready?" She was.
A decade later, Amy is the store manager at Store 4053 in Indianapolis, Indiana. Every day she strives to offer her associates the same caring encouragement that her manager showed her.
Thanks to Her Team
Amy involves her associates in many aspects of running the store—and they've stepped up in a big way. In early 2021, the store earned more than 40 customer compliments over just a few weeks. Amy credits the associates.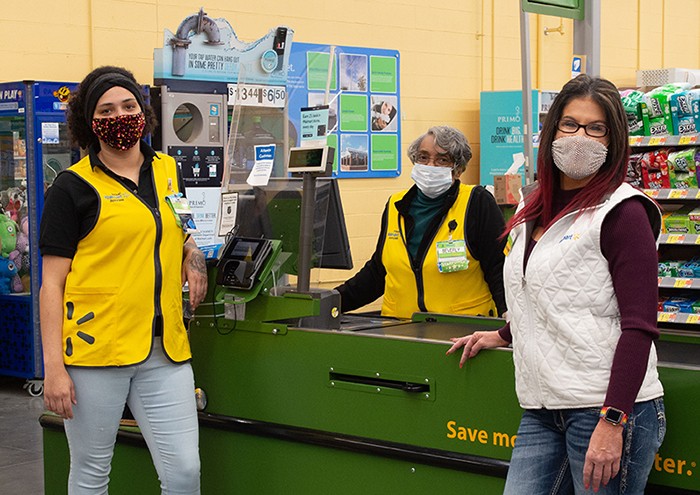 "With all of us wearing masks, I tell my team: 'We've got to push a little bit harder because our customers can't see us smile.'"
The store has a 4.9 in friendly as of March 2021 and Amy is leading her team toward a 5 using a variety of incentives to strengthen teamwork and motivation.
She admits to applying lessons learned as a mom to four kids when she considers ways to motivate her team. She's been known to treat her team members with baked goodies. And she's promised a home-cooked meal for her team if they can reach a 5 together.
Another initiative has associates who receive a 5 rating put their names in a bucket. At the end of the month, a name is pulled out, and that person wins a small prize. If the store receives negative comments, however, a slip of paper—without regard to name—is pulled out.
"The me is not what we need at this store, the we is," Amy explains.
So the store as a whole rises and falls together. And associates who get multiple high ratings work with others to offer tips on connecting to customers.
Taking Care
In Amy's view, that person-to-person connection is crucial to the store's success, because one reason customers visit the store is human interaction—especially when the pandemic has forced many to remain physically distant from friends and loved ones.
She's proud that her team can deliver. "Everybody's here to do what we need to do to take care of the customer," Amy says.