We at Walmart Labs India
If you're thinking 'scale', think bigger and don't stop there. Take a regular day at Walmart Labs and match that with 260 million customers a week, 11,695 stores, under 59 banners in 28 countries and e-commerce websites in 11 countries. That's Walmart Labs India for you!

Through our products and engineering services across all Walmart properties (stores, app and online) we help customers live better by saving them time and money. Our teams are engaged in cutting edge engineering and product development to support Walmart's strategy of offering customers an anywhere, anytime shopping experience.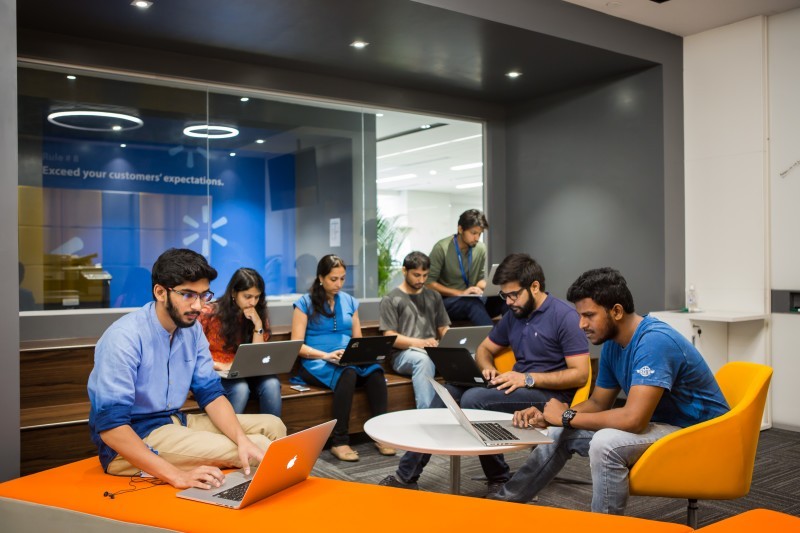 The teams within Walmart Labs help create a personalized experience for customers while they shop at Walmart. By merging online and offline stores, our teams are transforming the future of shopping across the world.
Customer Technology
Customer Technology team serves our customers throughout their shopping journey, no matter how one chooses to shop at Walmart – in stores, on a mobile device, online or even through voice. This team provides technology to power best-in-class shopping experiences for our millions of customers and delightful and seamless experience to our customers in-store, online and via mobile. This team innovates products such as Online Pharmacy, Easy Returns, Money Services, Customer Communications and a lot more!
Merchant Technology
Merchant Technology develops large-scale and high performing systems that build the Catalogue for millions of products sold on Walmart.com. They also develop Search algorithms that help users find the most relevant products and algorithmically price the products that are sold on Walmart.com. This team also oversees our online and in store search, pricing, catalog, content, inventory, replenishment, and fulfilment technology to provide the optimal experience for our merchants – and, ultimately the customer.
Supply Chain Technology
The Supply Chain Technology team ensures our customers receive their orders as fast as they want and where they want, in a friction-less, predictable way – all while being cost effective for Walmart's philosophy of everyday low cost (EDLC) and everyday low price (EDLP). This team oversees the scalable, nimble, and flexible technology that powers our hundreds of Distribution and Fulfilment Centers and provide our thousands of drivers and partners with the tools they need to get the right items, on time, in the right packaging to customers.
Walmart International
Walmart International has more than 6,200 retail units, operating outside the United States with 55 banners in 27 countries. This team from Bangalore plays a key role in changing the way Walmart Canada, Mexico and the US shops!
Sam's Club
Sam's Club Membership is the most valuable membership for customers. Our Bangalore team's goal is to make a deep impact on a few focused pillars such as Member Experience and Supply Chain to provide a highly engaging Digital Experience through the use of Data & Machine Learning algorithms.
Enterprise CIO
Enterprise CIO provides solutions for process areas like Finance, Spend Management, People, Chat Bots, Retail, Manufacturing and Real Estate. GBS Next is a new way of doing things that will make Walmart more efficient and more flexible to meet our company's needs. Global Technical Engineering Operations is also part of Enterprise CIO, the team that provides world class core infrastructure services and operations that are highly scalable, cost effective, secure and timely for our customers' successful retail experience across online, stores, clubs, distribution centers and data centers.
Global Data and Analytics Platform
The Global Data & Analytics Platform works on tons of data, and is the brains behind Analytics & Visualization, Machine Learning Technology, Algorithmic Products and Data Foundation.
Walmart Cloud Platform
Walmart's Cloud Platform, or Strati as it's famously known as, provides a versatile, scalable and a powerful Cloud Platform to world-wide Walmart eCommerce and Stores to create, continuously deliver and operate their business-critical cloud native applications.
Life at Walmart Labs India