She moved to the U.S. with a backpack, $300 and a dream. Today Grace Camacho is a store manager!
Stories of career success are all around you at Walmart. But Grace Camacho's story is especially impressive. It begins in 2007, when Grace joined Walmart as a part-time associate in Puerto Rico. She thought it would be a temporary job. But after earning her bachelor's degree in management and marketing, she saw Walmart as the ideal place to launch a rewarding career. 
With more Walmart stores—and therefore more opportunities—in the continental U.S., Grace set her sights on Texas. She got a transfer to Store 5312 in Fort Worth, Texas, where Spanish-speaking associates were in high demand.
It was 2014 and, Grace explains, "I moved to Texas with a backpack, $300 my mom gave me and a dream."
Achieving her hard-earned goals
Grace worked hard. Her store manager and mentor, Adrian Maese, noticed. He learned about her career goals and helped Grace learn English.
As her English improved, Grace was promoted to assistant manager for apparel. Then she transferred to grocery where she worked alongside associates, decorating cakes and baking bread. "I needed to know how to do everything if I was ever going to be their manager," Grace explains.
She transferred to another store to gain experience as a fresh assistant manager, front end coach and grocery coach. 
"When we lost both our store manager and store lead, they asked me to run the store," she says. Adrian helped her set a goal of proving herself and getting promoted to store manager within 18 months.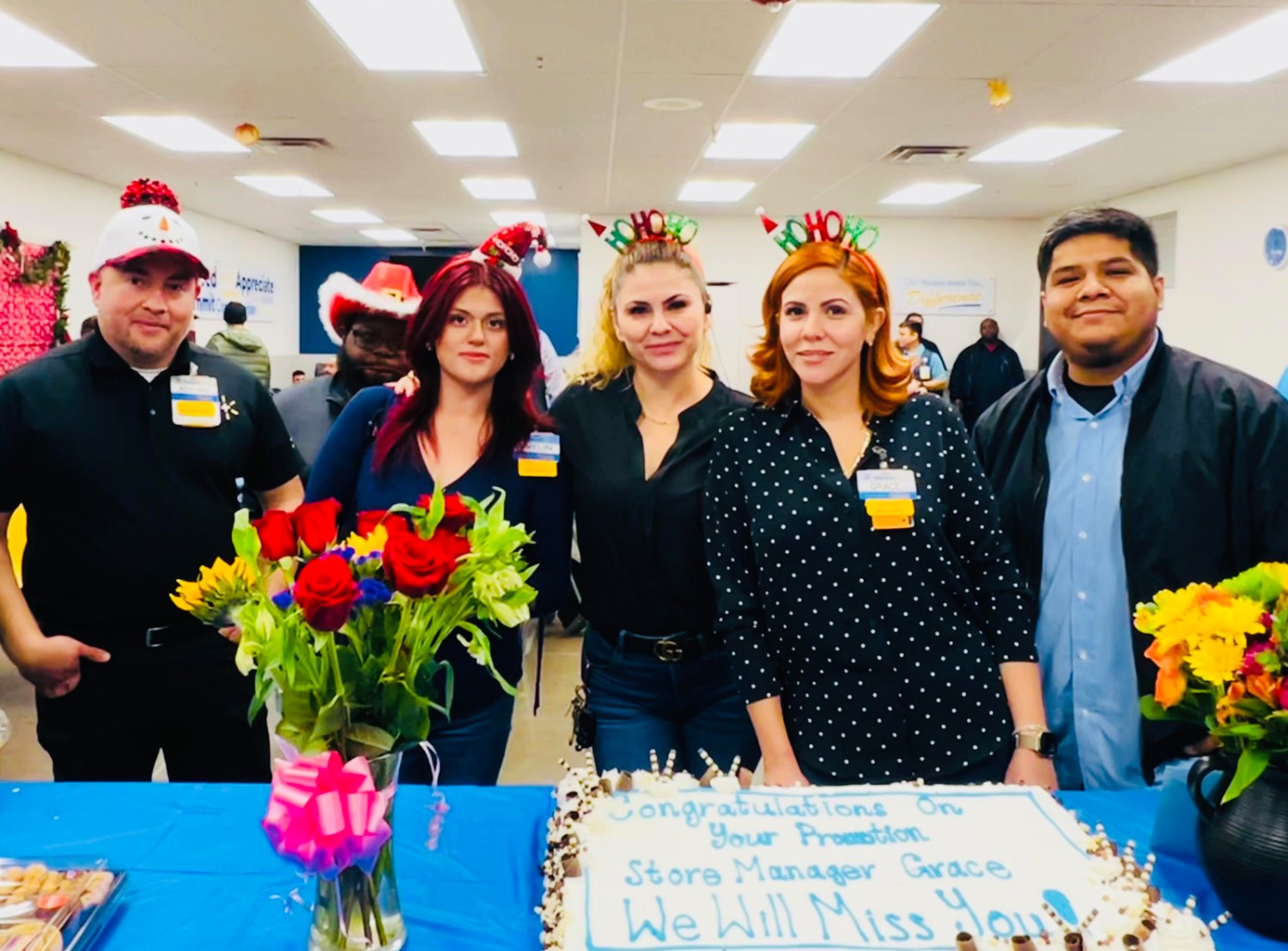 With guidance from both Adrian and her market manager Brian Egli, Grace achieved that goal! "They taught me everything I needed to get to the next level. I listened, learned and did everything they taught me." In December 2022, she was officially promoted to store manager at Supercenter 940 in Westworth Village, Texas. "It felt like a dream!" she says with a smile.
Grace has a hands-on leadership style. "Every morning, when I do my tour, I greet every associate by name," she says. (Yes, she knows all 327 store associates by name!) "Our people are everything," she continues. "If you don't take care of your associates, they will not take care of the business."
Learning from others' success
Grace was one of the associates featured in a 2023 Walmart video campaign, "The Floor is Not the Ceiling." Meeting the other people in the campaign had a big impact. "We all took different paths, but we are all successful because we work for a great company that gives us the opportunity to grow and become the greatest we can be. As a Hispanic woman, being a store manager sends a message to others like me that they can do it, too." 
Grace has a good eye for potential and mentors associates who want to grow with Walmart. "I tell them to challenge yourself all the time. Always aim for the next level—every single day."
"I'm so grateful to work with this company. I love what I do," she states. "I want to continue to grow with this amazing company. I'm just so happy to work at Walmart!"