File this one under: Cool Opportunities at Walmart. Adrienne Freeman is a Walmart merchant whose job is to discover new and exciting craft beers. #dreamjob
Adrienne has been with Walmart for five years and has been buying in the craft beer category for the Central U.S. region for just under two years. "My main role is to be an advocate for the customer," she said. "Every day, I am trying to discover new beers the customers want and what innovations are happening in the industry, all while trying to get customers the best price.
As a merchant, she consults a variety of sources to predict what products will be most popular for a particular store or region. Line reviews and trade shows play an important part in the process, but Adrienne says that one of the best ways to learn what is or is not working in a particular market is by visiting that market and talking to Walmart associates. "By far, this is the most tangible way of discovering new information," she said.
Adrienne discovered her latest find the way the rest of us do: on social media.
While scrolling on Instagram, she came across a list of Black-owned businesses. One of the businesses mentioned was San Antonio-based Weathered Souls Brewing Co.
Adrienne connected with Weathered Souls and learned they produce high-quality brews of various styles. Some favorites are Hardwood Classic, a pilsner whose name is a nod to basketball, and a hazy IPA called Who's Got the Juice Now? What's more, the brewery had developed an initiative to address injustice in local communities.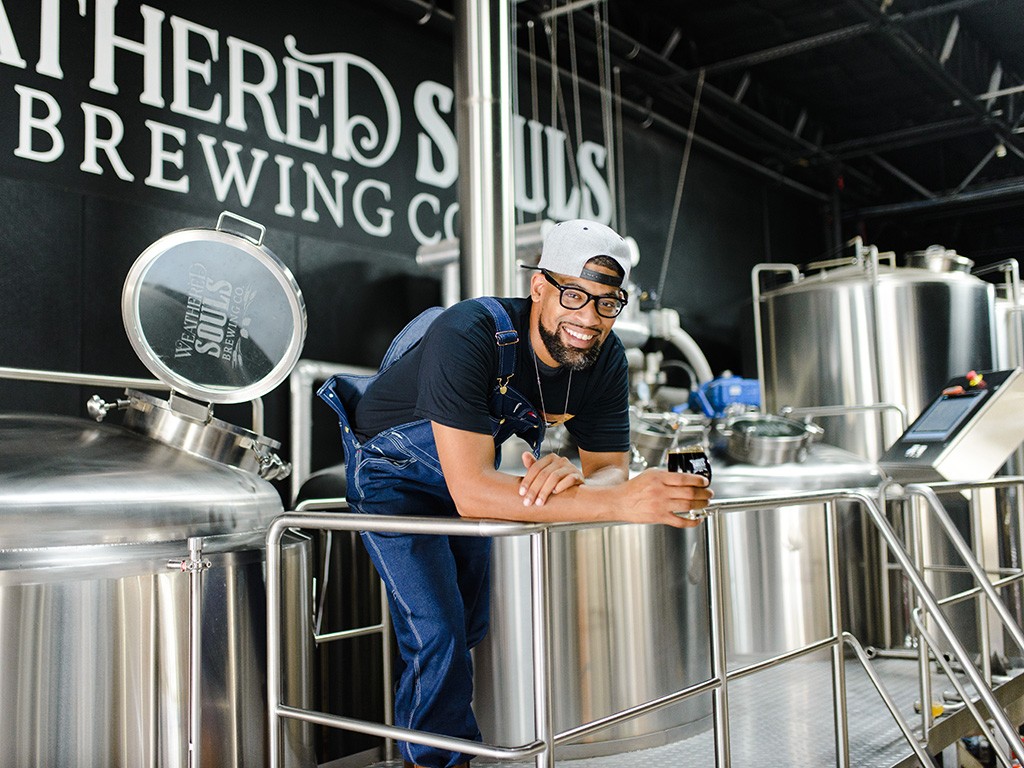 Marcus Baskerville is Weathered Souls' head brewer and cofounder. He came up with the recipe for a stout called Black is Beautiful and the idea to donate a portion of the stout's proceeds to organizations promoting social justice and community cohesion.

Then, Weathered Souls took it a step further. The business published the recipe so that other breweries could brew Black is Beautiful, too, as long as they committed to donate a portion of the beer's proceeds to organizations working to support inclusion and fight injustice in their local communities.
Adrienne knew early on the stout was a good fit for Walmart. She felt confident craft beer drinkers would respond to the rich, malty stout. Moreover, she understood Weathered Souls' commitment to social justice was in line with Walmart's values, including the retailer's commitments to supplier diversity and racial equity.
Up to that point, Black is Beautiful was mainly sold in bars and taprooms. To bring it to the retail market, Adrienne coordinated with Weathered Souls and eight other craft breweries:


The Black is Beautiful stout can be found in roughly 300 Walmart stores around the U.S. from February through March this year (and in 55 Walmart stores year-round in Texas). Weathered Souls and the eight brewers are brewing this beer to support diversity, inclusion and social justice. Walmart will also highlight Black-owned wine and spirits brands, such as Black Girl Magic Wine by the McBride Sisters, during this time.
As part of their strategy to provide a strong assortment of discovery items and provide store of the community merchandise, the Walmart adult beverage team has been on a journey to expand their local craft beer business. Over the past two years, they have added over 200 brewers to their portfolio and are set to add another 100 breweries starting in April.
"Innovation isn't necessarily about finding the latest odd gadget," Adrienne said. "It's about finding the gaps in the category, what needs have not been met. Innovation is really about trying to find a solution for the customer."
For more information on how to support Black-owned businesses, visit Walmart.com.